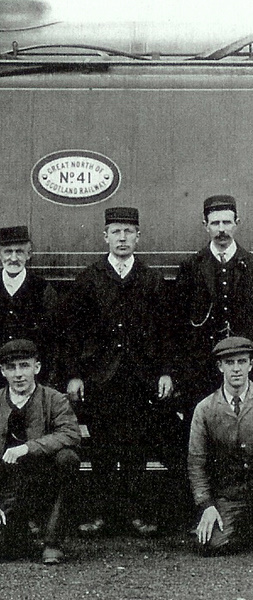 The Alford Image Library
Alexander Robertson Birnie
Alexander Robertson Birnie, born 1877 in King Edward Parish, Aberdeenshire became an employee of the Great North of Scotland Railway Co. in 1895 and initially worked at Aberdeen Waterloo Station. In 1909, having move around the railway system, he was posted to Alford with his wife and family. Here he wrote the play "Pig Charlie" and about forty poems in the span of three years until he was moved to Aboyne in 1912. He continued to write in his spare time, eventually retiring as Stationmaster from Lossiemouth in 1942 before his death in Dufftown in 1951. Some of his poetry was published in 1983 in the pamphlet "A Balmy Breeze Frae Alford".
He obviously enjoyed his time at Alford as the title poem here shows:
For balmy breeze or bracin' air
For pleasant sichts and scenery rare,
There's nae a toon that can compare
Wi' Alford.
The Vale for beauty stan's alane,
A ne'er to be forgotten scene,
It's in the shire o'Aberdeen
This Alford.
Sheltered frae the cauldest blast,
North and South and East and West,
Wi' paradise it may be classed
This Alford.
River, brook and stately tree,
Heath-clad mountains, wild and free,
Hills and glens as far's ye see,
Roon Alford.
Sculptured fountain in the street,
Spoutin' water, pure and sweet,
Weel repays a trip tae see't,
And Alford.
Brilliant lichts through a' the toon,
Shed their rays for miles aroon,
Independent o' the moon
Is Alford.
If you desire to fish or shoot,
Or broken health you would recruit,
You'll bless the day you set your foot
In Alford.
Picture added on 09 March 2009
Comments: