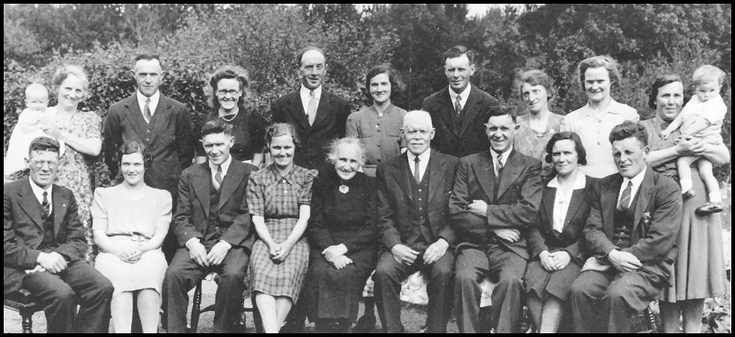 The Alford Image Library
Wedding Anniversary in Inchmarlo, Banchory
This is a group photograph taken at the Golden Wedding Anniversary of Jane Ann Riach (born 1872, see photograph 934) and William Kemp taken 17th June 1944 at Inchmarlo, Banchory. Their children are in the back row and the inlaws at the front.
Back Row:
Jean Gray, Bella Gray (Janet's daughter), John Gray (Janet's husband) Jean Calder (Albert's wife), George Thompson (Mary's husband), Charlotte Jarvis (Bill's wife), Janet Kemp, Elizabeth Hacket (Dod's wife);
Front Row:
Albert Kemp, Barbara Kemp (Mackie), John Kemp, Mary Kemp, Jane Ann Riach, William Kemp, George Kemp, Meg Kemp, John Ewen (Mackie's husband).
They had one other surviving son Sandy Riach Kemp who was away at war when the photo was taken.
Picture added on 21 March 2009
Comments: