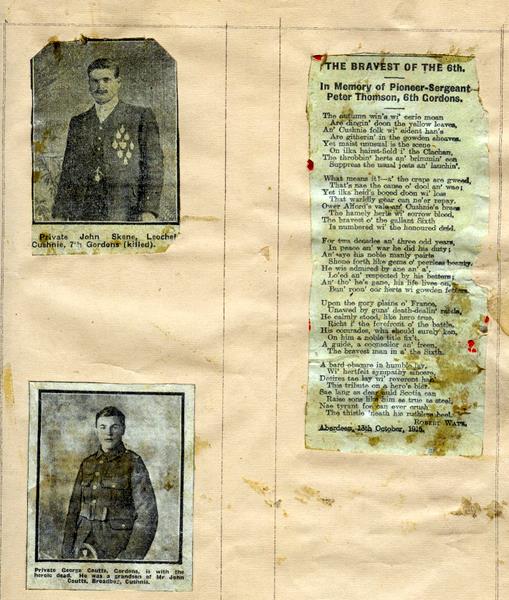 The Alford Image Library
Casualties from the Great War
Private John Skene and Private George Coutts were amongst the many casualties when the 7th Gordon Highlanders were virtually annihilated in 1915.
The Poem was written by Robert Watt of Aberdeen in memory of Pioneer Sergeant Peter Thomson of the 6th Gordon Highlanders. June says: " I think the verse was written about him by his brother-in-law. Peter's wife was a Mary Watt. He was born 12th October 1869 and died 25th September 1915. There is a stone for him at Leochel Cushnie churchyard. He was the son of Harry(Henry)Thomson(1836-1906) and Jane Williams, who in his time farmed at Newseat and Calfward Cushnie."
The Pioneers were the Territorials. The losses had such a major impact on Donside and almost every family was affected by the tragic events. Undaunted it spurred on many more to enlist, some as young as 15 pretending to be much older!
June goes on to recall: "My Grandfather Andrew McDonald was in the Gordon Highlanders in WW1. Apparently he lied about his age, and was for a period batman to ???King landowner from Cushnie. He very rarely spoke of what happened, only of how cold it was in the trenches."
Picture added on 16 January 2009
Comments: