Introduction
Welcome to the Alford Image Library
Alford is a small town (still considered by locals as "the village") in rural Aberdeenshire, some 25 miles or so to the north west of Aberdeen. The Alford Image Library contains 1284 pictures of this area of Scotland for you to browse.
Many are images from a bygone age; some are images from present times. New images are always welcome. Images can be viewed by year, by album, by group, or by contributor, or you can use the simple search at the top of this page.
When viewing the pictures you can leave your own comments using the form at the foot of each page (please ensure that you fill in all relevant portions of the comments page; it would be appreciated if comments are left with at least a forename....anonymous comments may not be published, and abusive ones most certainly will not be published). In this way we hope to build up an extensive collection of information, reminiscences and anecdotes, and make any corrections necessary. There are 763 comments on the site at present. Comments written in Doric are particularly welcome. You are also able to make your own album of the images here and make this publically available if you wish. If you have any suggestions or would like to post a photograph here, please email to
jim_talbot85@hotmail.com
.
Latest Picture
Alford Curling Club
Opening night in 1976. From Left to Right: Stanley Hutcheon, Bet Milne, Gordon Joss, Derek Harpers, Bill Ledingham, Frank Matthew, ?, Neil Souter, Bill Balfour, Robbie Joss, Sandy Barnett, ?, Ian Stannard, Jim Barclay, Alec Gray, ?, Ed Stannard, ?...
If you want to provide pictures please
email them to us
. Remember, quality is the first priority with your scan, especially with old and damaged photos - which we welcome. So don't worry about the size of your scan - the bigger the better!
1284 Pictures | 763 Comments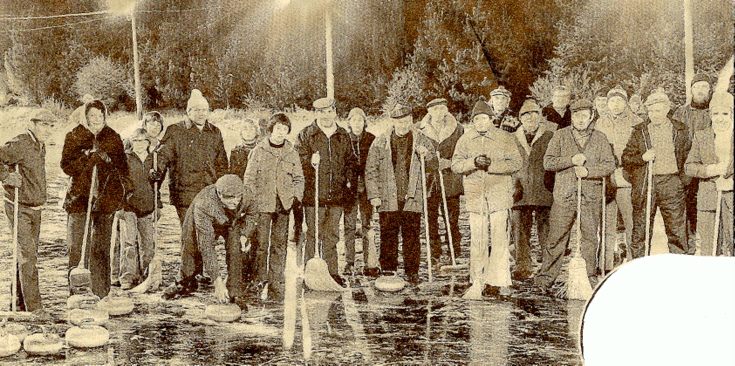 LATEST NEWS:
Delay in posting new photographs
21 December 2010
Apologies to anyone who has sent photographs over the last few months, they have been received and safely stored along with the emailed information, but you will have noticed that they haven't been po...